It is stinkin' cold out this morning. I woke up to temperatures of minus-45 at my house, and my friend Lynn Orbison said it was 50-below at her place, only six miles up the road. That is way to cold to contemplate training sled dogs today. Like many mushers, I have a predefined temperature "cut off" point at which I don't go out. My own personal cut-off is 30-below. Even so, it is quite possible to be caught by an unexpected cold snap, and a cold snap on top of -30 means EXTREME.
While the goal of the Stardancer Historical Freight Dogs kennel is to reenact historical mushing practices, most of our time on the trails is spent in training rather than reenacting. Training isn't just limited to physical conditioning for the dogs and musher, but also in honing our skills on the trail and ability to travel in the back country.

I've done several winter camps using historically authentic gear and supplies, but there is a big difference between camping with a single dog and camping with a full team. More dogs enable us to go further and faster afield, but they also require more time for their care and maintenance. That time must be stolen from that which would otherwise be spent on setting up and maintaining a comfortable camp for the human partner in this endeavor.

One of the more important aspects of winter camping is getting good quality sleep. One can't sleep very well if you are huddled in a little ball shivering. In a historical context, a well constructed shelter combined with an open fire equipped with a reflector to 'bounce' heat into the shelter along with a deep bed of spruce boughs and a bedroll consisting of two or more thick Early's of Witney or Hudson's Bay Company blankets will do the trick. I've been comfortable in camps similar to the one pictured below at temperatures as low of -30 degrees F (-35 C).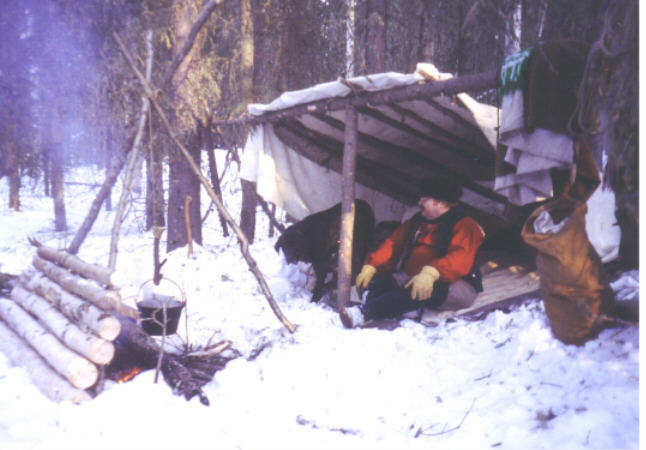 The problem with such a camp is that it takes a great deal of time to set up. The camp depicted in the photo above required two experienced historical reenactors almost four hours to set up. With a team of dogs needing to be watered, fed and fussed over, four hours is just too much time to spend. It will be much more efficient if I take advantage of some modern technology to make such an elaborate camp unnecessary.
I figure that with a good enough sleeping bag, I should be able to stay reasonably comfortable just holed up under a tree or stretched out in the basket of my sled. Plenty of long-distance and expeditionary mushers do that very routinely, so I decided to check around and see if I could find a sleeping bag I could fall in love with.
I had some specific features in mind. First and most importantly, the darned thing has to work as advertised. During my first winter camping trip in Alaska I had the top-of-the line "arctic" sleeping bag from a very well known and highly regarded sporting goods company. The bag was rated for 40-below zero, but when the temperature fell to -30 I froze my butt off in that thing. Not only was I cold, I was trussed up like a Thanksgiving turkey. My historical bedroll works better than that and doesn't leave me claustrophobic. Fortunately there was a most brilliant display of the Northern Lights that night, so at least I was entertained while I froze in that bag. When I roll out in the basket of my sled I don't want to be repeating that experience.
I also wanted a bag roomy enough to accommodate a companion as well as myself. Winter camping is always much more fun when one has company, especially when that company is of the opposite gender.
This is where Wiggy comes into the picture.
Wiggy's
has been manufacturing extreme cold weather clothing and gear at their facility in Grand Junction, Colorado for more than 20 years, and have a earned reputation for quality. Much of the arctic gear issued to me by my employer was originally manufactured by Wiggy's and it has always kept me comfortable and safe regardless of weather conditions. Wiggy's parkas and bibs have been appreciated by cops and oil field workers on the North Slope and elsewhere in Alaska from a long, long time. Meanwhile his sleeping bags are very highly regarded and recommended among long-distance and expeditionary mushers.
I sent Wiggy an Email asking about the features I wanted along with a link to my
Stardancer's Historical Freight Dogs
website. Wiggy replied the very next morning, and explained that the features I need are standard features of his best mass production bag, the
Antarctic Bag
. Two of these with opposing zippers should certainly do the trick, especially with the addition of his overbag - which can double as a stand alone sleeping bag in above freezing temperatures. He also recommended a mating sleeping pad he manufactures that won't slid out from under you in the middle of the night.
That he even makes the kind of gear I need for the things I want to do is remarkable, but even more remarkable is that he offered to sponsor the team by providing the gear at an incredibly generous discount. I don't know that I'm at liberty to say how much of a discount, but I'm pretty sure that he isn't making any money at all on the deal.
So, the bottom line is I placed my order immediately. With the weather being so bitter here today I find myself anxiously awaiting a big box in the mail and some new gear to try out. The next time I get caught out in the back country by a sudden cold snap, or just want to stretch out for a few hours, I'm confident I'll be very comfortable doing so.
Swanny