HOORAY!! The truck started, and ran fine this morning. That opened up my calendar to allow me to take the team on a training run.
I had company for our training run today. Stephanie Little Wolf made the trip out to Two Rivers to run with the big dogs. Stephanie also mushes the larger, aboriginal types of dogs (she has some very, very old lines in her team).
Recently I've posted a lot of pictures of the puppies, but not much of the adult dogs. Here are photographs of the 8 adults who made up our team today.
Leaders - Torus and Grace
Swing Dogs - Seamus and Beau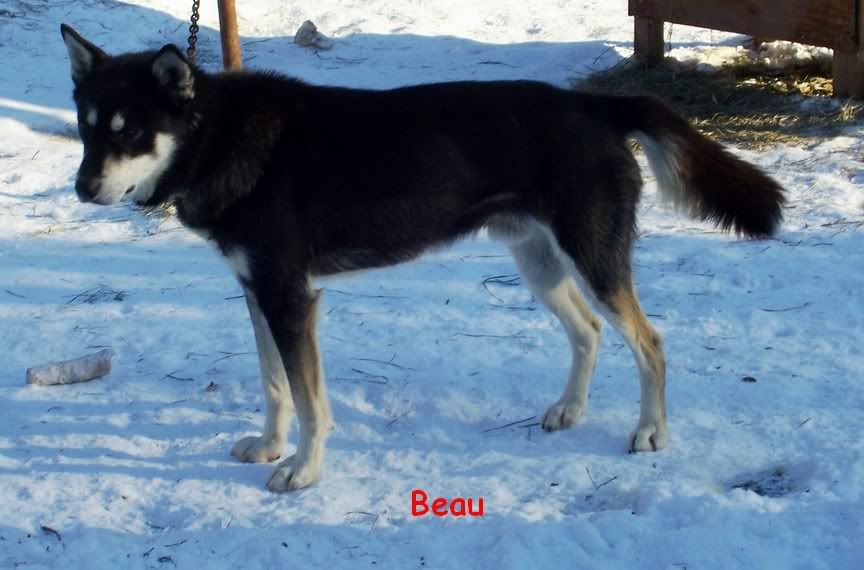 Team Dogs - Rose and Nels (The Hedlund Husky "Twins")


Wheel Dogs - Sheenjek and Gump


Here is the entry from my training journal:
Saturday, 10/18/08: 6.2 miles on four-wheeler, flat terrain, snowpacked gravel/dirt trails. Temperatures between +15 and +20 degrees. Max speed 12.7, moving average 9.2 mph. Lynn's to PV Rd to Baseline to Grange Hall to lollipop loop to Baseline to haw around Swenson's field to PV road to Lynn's. Stephanie Little Wolf came along as handler/observer.
Torus & Grace
Seamus & Beau
Rose & Nels
Sheenjek & Gump
Grace scotched at Torus just before we took off – BIG mistake. She and was a bit surprised when the ol' boy chastised her in a very appropriate albeit loud and no-nonsense manner. It was a for sure squabble, but did not escalate into a sure enough fight. Grace was very well behaved throughout the remainder of the run. Torus missed a 'straight ahead' cue and tried to go gee on Paw Print Patch on our return to the yard, but corrected nicely when cued to "haw". Torus was looking pretty tired toward the end of the run, but still managed a sprint 'home'.
Seamus and Beau worked very well together up in swing. Seamus is the team cheerleader and when we restarted after a brief stop for me to don my insulated gloves he was yipping and bounding with each step until we got things rolling again.
Rose and Nels were not so bad about trying to turn back in their harnesses at the start. I think having a few more dogs in front of them help prevent the behavior. Sheenjek was his good old self. Gump worked better at wheel than he has up forward, but is still a slacker when the trail is easy. I suppose I need to get him up in the hills where he realizes his help is needed more often and more steadily.
I intentionally kept the pace slow on the start and slowed them to a working 10mph trot as soon they got the initial burst of enthusiasm out of the way. I wanted to work on strength training, pace and gee/haw cues and feel like this run did everything I wanted.