Highlight of today was a nice run with a small (6-dog) team. I was actually quite impressed with their performance, considering that we've done so little training over the fall.
Since I haven't seen the trails since our last attempt way back in November, I decided a small team of reliable dogs would be in order. For leaders, I chose the two most reliable in the yard, Torus and Just. Having them at the front of the pack is like having power steering, and we had no leader issues at all today.
In swing / team I put Seamus and Beau. Both are hard working dogs in the prime of life, easy to handle and well behaved even when exicted. In wheel I put my "mitten twins", the Hedlund huskies Rose & Nels.
We left the house in good fashion, and I let them stretch their legs down the power line right-of-way. According to my GPS they hit just over 14 miles per hour on that long, straight, freshly groomed bit of trail. We took the main trail to the local "Swamp Trail", which was just broken out by snowmachine a couple of days ago. There were no sled or dog tracks on it, and it proved by really rough. It needs another four inches or so of snow to fill in the gaps between the tussuks in the muskegs. We made it across without breaking anything or hurting anyone, but it took a lot of sled-driving on my part to do so.
We climbed the ridge, and the dogs were hauling more strongly than I had thought they wood. My original plan was to cut over to Mike G's place, turn the team around there, and then go home the way we'd just come. With the dogs working so well I changed the plan, and decided to run the ridge down to the wood cutting road, and then take that road to a trail-head pull-out, pick up the trail there and return to the house.
Here is a photo I captured of the team pulling the ridge. Just look at that gangline
It's tight as a fiddle string. Meanwhile, I caught Nels doing a bit of sight-seeing without putting any slack at all in his tug-line.
The entire run was about 8 1/2 miles, which we covered at an average speed of 6.8 mph. That's not bad given the hilly terrain. The temperature at the house was right around zero, just cold enough for me to frost up my neck-warmer and beaver fur hat.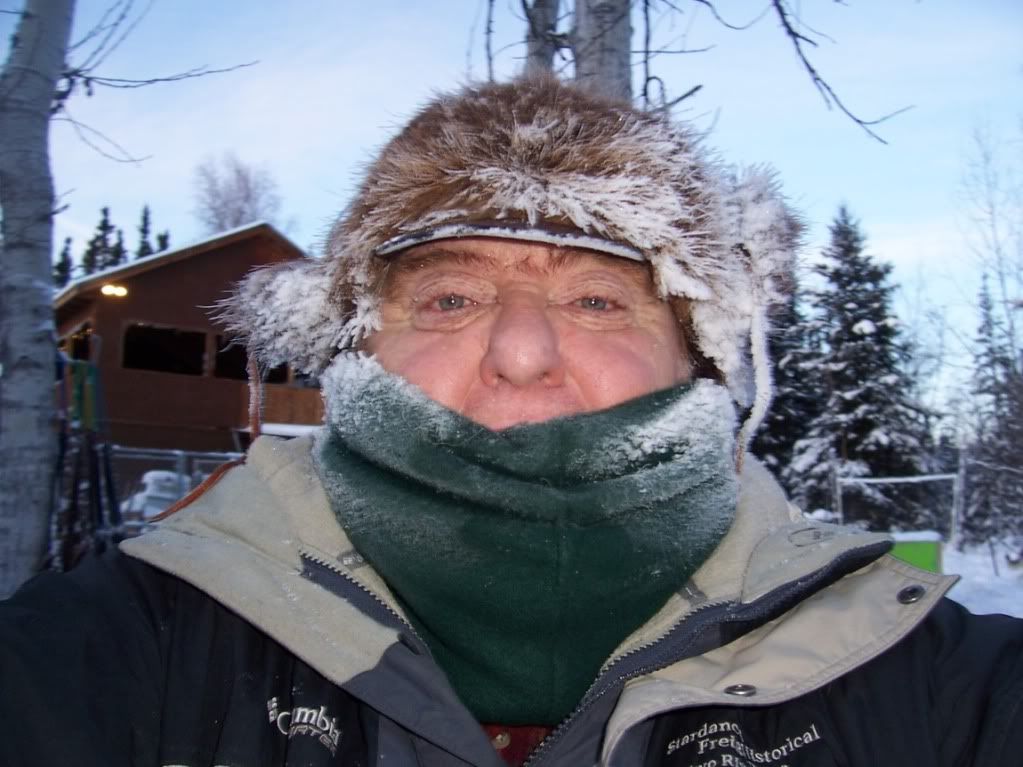 It was a great run, given the conditions. I'll try avoid the Swamp Trail until we get some more snow, but we'll definitely be getting the dogs out on the trail much more regularly now.