My relief arrived at work a bit early, so I got an early start to town, taken up by a relatively slow trip on ice covered roads. I saw several moose along the way, including a very nice young bull still sporting his antlers. The grocery shopping took a bit longer than I'd anticipated as I've been buying things that I've only rarely purchased in the past - but which contribute to a healthier diet. Once home I spent time visiting my dogs before unloading the rig. I made a nice haul at the post office and ended the day with a
Two Rivers Dog Musher's Association
meeting at the
Lodge
.
I slept in until 7 o'clock this morning, took care of the dogs and then Ted and I made plans for today's run. We ran two teams of 5 dogs each, which was plenty given the trail conditions. The trails are still very much suffering from last month's ice storm - they are fast, rough and ICY. Toboggan sleds steer like bricks on a good day, and today "steering" was more a wish than a possibility. I felt like I was riding a pinball as we slid and slipped from ice-chunk to ice-chunk. It was also fairly cold (- 15 F or -25 C), and I was wearing well worn pack-boots, so my feet were plenty cold by the time we returned to the yard. I was glad we had decided on a short, albeit fairly intense, run for today.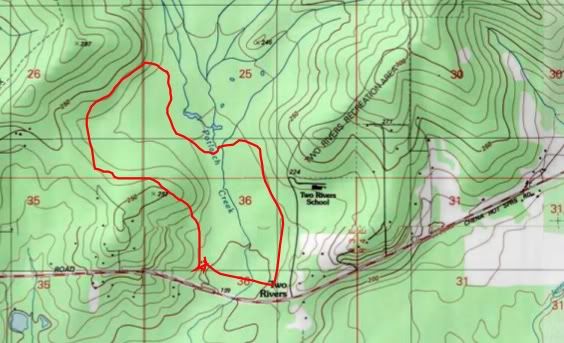 As you can see, our route involved some flat running, some nice twisty trail through the woods between Potlatch Creek and the base of the ridge, a good climb part way up the ridge, and a fast run down the ridge along with some more zig-zag through the trees type running. The last quarter mile or so even offered an opportunity to break trail, which I'm sure the dogs preferred to the hard, slippery ice underfoot.
Although Ted was riding his very nice Mackler sled, he had issues of his own. His snubline wasn't quite long enough to store properly, so it ended up dragging under his left runner, making it difficult to control his sled. He sure looked like a pro every time I turned to check on him, but I guess it was quite a challenge to manage - a challenge that he met very handily. At the end of the run he described his team's performance as "almost perfect."
I think our timing was just about spot-on. We are in for a bit of a cold snap the next few days. In just the past couple of hours the temperature here at the house has dropped from minus-15 to minus-22 F (-30C). The forecast is for it to be considerably colder overnight. It's cold enough that I plan to bring 12 year old Torus inside tonight. He refuses to sleep in a dog-house, and I really don't want to risk his health.
Here is our training journal entry for the day:
Wednesday, December 8, 2010
:

3.8 miles.

Home to main trail to swamp trail to Rod and Judy's access trail, through Fritz's old place, down that long driveway and back to the yard.

Very icy, rough, fast trail.

On sleds, with Ted running a team right behind mine.

First "joint" run of the season.

Temperature ~ 15 below F (-27C).
Max speed 10.7 mph.

Average speed 7.4.
Ted's team (following team)
Capella and Cassiopeia (swing)
Hook up went more smoothly than I would have thought given that we were hooking up two teams in a small space and we didn't have a leader hook for Ted's team.

We were able to control the speed on the start pretty nicely, considering the trail conditions.

My toboggan sled was all over the trail, bouncing off of ice chunks, &c.
After a bit on the main trail Torus slowed a bit so I had to ride the drag harder to keep the team off of him.

All of the dogs worked really well.

Torus couldn't figure out the "straight ahead" cue to go past the driveway down to our feeder trail, so we ended up coming home via the driveway and into the west gate of the yard.
Ted had an issue with his snub line catching underneath a runner of his sled, which made controlling his sled difficult.

He reported that his dogs gave him an excellent run, though.

Toward the end Orion was leaning out on his neckline some, which is an indication that he is tiring.

Nels worked hard throughout the run, as did the girls (Capella and Cassie).
It was a fun run overall.

A good portion of it on a trail the dogs haven't seen before but they had no issue on it all.

It was a good run for a team that hasn't done much the past couple of weeks.