I've Been Promoted:
I've been promoted. Not at work, but rather in my endeavors as a writer of non-fiction, historical magazine articles.
I've been a contributor to
On The Trail
magazine for many years. Dave Schmid, myself and often 1 other writer focusing on the Canadian fur trade of the 17th through 19th centuries have written the
Les Pays D'en Haut
articles on a rotating basis. French for 'height of land', les pays d'en haut refers to the "upper country", north and west of Lake Superior. That third author working on the series was originally Karl Koster for a few years, followed by Isaac Walters, both of whom are excellent researchers and writers who are enjoying historically themed careers.
Last month OTT publisher Jason Gatliff asked me for a photo and a brief biography, as he intended to "promote" Dave and I both to the position of Staff Writer. It doesn't mean any more money or (I hope) any additional responsibilities, but it is a nice feather in my writer's cap.
Here is the photo Jason selection. You can see it in context with
my biography
on the On The Trail website.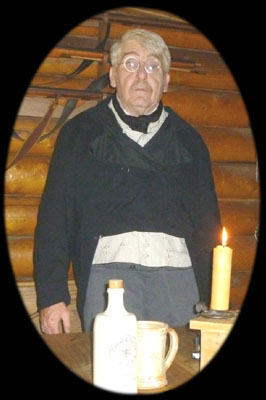 The Other Stuff:
I had planned to run dogs yesterday, but was way-laid by the need to pick up an order of dog food while my distributor, Brent Sass of Wild and Free Mushing, was in town and available. The prompted a trip to town, so while there I stopped in at Cold Spot to buy some fish oil and some deworming tabs.
Cassiopeia and Seamus have both been having some issues with diarrhea the past few days, and it's been unusually persistent. Blue Heron capsules, which usually take care of loose stools very quickly, didn't help and a three day course of metronidazole also wasn't having the desired result. I took Cassie in to see our vet (Melissa Rouge at Golden Heart Veterinary Service), and she advised giving both Cassie and Seamus a three day course of fenbendazole dewormer. I figured if 2 dogs need to be wormed, I might as well do the entire team.
By the time I returned home the temperature had warmed enough that running to dogs wasn't a particularly good idea, so I did a few other chores around the place instead. I tidied and cleaned the storage bay and deck that overlooks the dog yard, hauled a bunch of garbage off to the dumpster station, and generally focused on domestic chores.
Now that I've gotten caught up on the news I'll eat a quick snack and then start hooking up some teams for some training runs this afternoon.