Community Meeting. Photo by Mariska Wright
Weather conditions, and the Stuart Creek 2 wildfire that threatens our community of Two Rivers, have been stable the past few days. According to the Incident Commander of the fire, that is probably going to change today, and not necessarily in our favor. Last night we gathered at the relatively new Two Rivers Community Center for a meeting with those responsible for fighting the fire. The 6:00 pm meeting drew a larger than standing room only crowd.
Incident Commander Jerry McGowan provided a succinct briefing, describing the resources currently available to the firefighting effort and progress thus far made in containing the fire. He noted that the northern edges of the fire, those most likely to impact our community, are not yet contained. That's primarily due to the nature of the terrain, which makes it extremely difficult for ground crews to access the fire. He said that his goal is to contain the fire south of the Chena River. Meanwhile, crews have set up hose lines and the equipment necessary to protect structures to the greatest degree possible. He also noted that more resources are on their way as crews are either demobilized or diverted from other fires around the state, and indeed, around the Nation.
Although not originally scheduled to speak, U.S. Army Commander of Fort Wainwright, Colonel Ron Johnson, stood up to take the heat when one of our neighbors asked "If the military started this fire, then why aren't they here?" For the first time since this thing started, he admitted that the fire was ignited as a result of artillery training in the Yukon Training Area. That training was conducted in spite of the fact that the entire region was under a red flag warning due to the extreme danger of igniting wildfires. When asked if the Army would pay for damages caused by their fire, Colonel Johnson side-stepped the question, as indeed he must. He is in no position to know the answer to a question that could result in years of law suits and legal wranglings.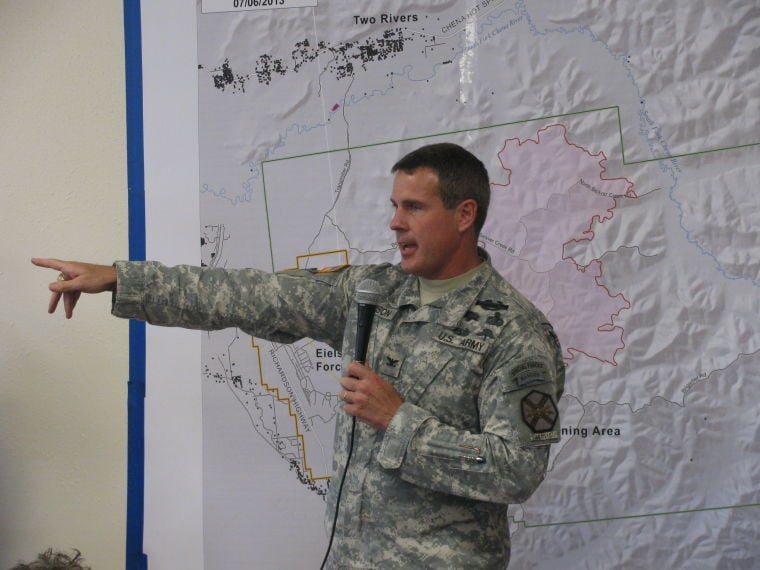 Colonel Johnson taking the heat - photo by Sam Friedman/Fairbanks Daily News-Miner
Today's weather forecast is not favorable for our community. Hot and dry conditions accompanied by winds blowing from the South to Southeast are likely to spread the fire closer to Two Rivers. At the very least we can expect to be eating a lot smoke, and if the fire advances more than a couple of miles our current evacuation watch may well be changed to an evacuation order.
We were assured that if required to evacuate Alaska State Troopers and other resources will be used to step up patrols in the region in an attempt to prevent looting, which has been a problem in similar circumstances in the Lower-48. When asked questions such as "how much warning would we receive" or "how long would be be away?" I.C. McGowan could not provide precise answers, responding only that those decisions would be "situational", based on circumstances as they occur. It's truly the only honest answer he could give.
Here at our place, we are as prepared as we can be, and have been since Tuesday afternoon, when the evacuation watch was first issued. We can have all of the animals loaded and ready to roll out within 30 minutes if necessary, and the supplies and equipment necessary for camping with and caring for them are already packed and loaded. The most important of irreplaceable things, such as important papers, photographs and small treasures, are loaded in the car ready for transport. We know where we will go and how we will set up our own refugee camp. As for the rest of it, well, it is just "stuff" and I'm pretty sure the U. S. Army can afford to replace any of the stuff that might be destroyed by their damned fire.
Meanwhile, life goes on. I spent yesterday dealing with the notorious Sh*t Hill. No, not the one back out on the trails, but rather than one just outside the dog yard that grows to an astounding height each winter. We scoop our dog yard at least twice each day, and all of that feces has to go somewhere. Here at our place, it goes into a constantly growing pile for cold composting. We add other organic material, such as wood chips and straw, and allow it to decompose into compost. Once a year I fire up the tractor to "flip" and spread the resulting compost, gradually filling in a low spot at the far end of the dog yard. I then lay down a nice bed of straw to form a base for the next years collections.
Bed of straw, ready for another year of cold composting. Photo by Swanny
While doing that job, it became apparent that I need to do some chainsaw work behind the kennel, clearing out a lot of brush and small black-spruce trees that are thickly grown in that area. That will have to do onto a list for either this fall or, more likely, next break-up before fire season begins. Currently the conditions are just too dry and dangerous to be running the chain saw back there.
Once I finished with the compost pile I went to work on the truck, replacing the front bumper and right front marker light that were damaged by our former handler more than a year ago. It took me about two hours to do a project he couldn't accomplish in over half a year (sigh). I still need to reinstall some trim and air dams, drill some holes to remount moose lights and eye bolts for chaining dogs to the truck, and so forth. I'm expecting to spend around three or 4 hours finishing that project today. Afterward, I'll move on the next project, whatever that may be. It's not like I'm lacking things to do while continuing the fire watch.