The Iditarod is coming. The restart is coming to Fairbanks, but I'm at work and will nonetheless have to follow the race like most folks, through media accounts, news releases and features offered on the Iditarod web site, and of course the expensive GPS tracker.
Lack of snow in the Southcentral Region of the State has made for difficult training conditions, and more particularly, virtually no snow at all on the trail north of the Alaska Range has forced the race committee to move the this year's restart from Willow to Fairbanks. This means the race will be run primarily over the Tanana and Yukon Rivers to Galena, then job North to Huslia and then back south to the village of Koyukuk. This will provide a total mileage of 968 as opposed to the normal "southern route" mileage of 987.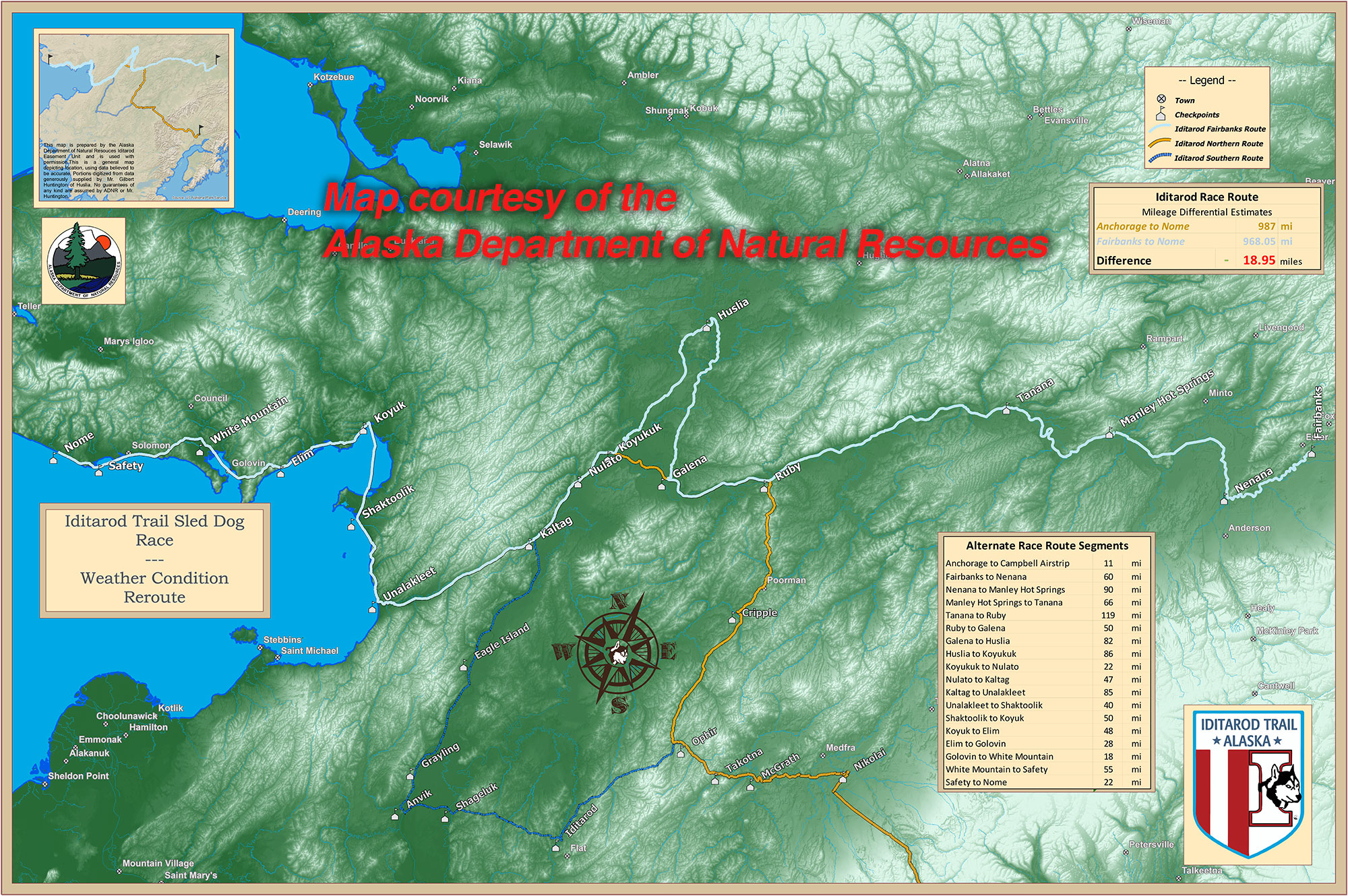 2015 Iditarod Trail Sled Dog Race Map
That's plenty of miles, but this year's route doesn't include the steepest and roughest terrain for which the Iditarod is noted. I think that could have a serious impact on the final results of this year's race.
The last time the Iditarod started in Fairbanks, Norwegian musher Robert Sorlie became the first non-North American resident to win the race. Sorlie's style of dogs and style of running proved very effective over the relatively level terrain and warm temperatures. Like Sorlie, Martin Buser has very 'houndy' dogs that love to run fast between camps and checkpoints but don't seem to fare so well in rough terrain or colder weather. The route change may give Martin and/or his son Rohn an edge this year. Martin placed 4th in 2003.
Jeff King placed 3rd that year, so it's evident that his team back then had no problem traveling over the river route. Jeff was forced to scratch at Pelly Crossing in this year's Yukon Quest. He had traveled as far as Stepping Stone, but then returned to Pelly where he explained he was concerned with the amount of dog food needed to mush his team onward to Dawson City. While that might seem a good reason to suspect he may have issues in the Iditarod, let's remember that the temperatures during that part of the Quest were brutally cold. His dogs needed even more than their typically high caloric intake to deal with the temperatures while running. His dogs may be high maintenance, but on easier terrain in warmer temperatures I doubt his Quest scratch is particularly informative. As they say in TV commercials, past performance is not necessarily indicative of future performance. I think Jeff could be a contender this year.
Like Jeff King, Ray Redington Jr. also scratched in the Yukon Quest, pulling the plug at Dawson. With only 7 dogs on the line, and some of those looking stiff and sore, he felt it best for the welfare of his team. His dogs may also fare better on the river than over rough terrain.
Ken Anderson took 5th place in 2003. He's been below the radar thus far this year, I haven't seen nor read much about his training season. I can't really venture an educated prediction, but I wouldn't rule him out as a contender.
Mostly I want to consider the teams that have just finished the Yukon Quest. Brent Sass' 'Wild and Free' team came into the Quest finish strong. Strong enough to change a 2 minute deficit into an hour and 10 minute advantage over only 74 miles. I was honored to check the first two teams into the Two Rivers Checkpoint, and both Allen Moore (leading at the time) and Brent Sass had teams of dogs that were lively and running strong. I really couldn't have called the race at that point.
However, by the time the two teams passed in front of the Pleasant Valley Store it was evident that Brent's dogs were more focused and running faster than were Allen's. That's important because Allen's wife, Aliy Zirkle, will be running some of those same dogs in her Iditarod bid. She's been a strong contender the past few years, but unfortunately some have taken to referring their SPKennel as "Second Place Kennel".
Brent's teams always seem to perform best in rough conditions, be it tough terrain or tough weather. Their reputation was bolstered this year in the Quest. While the brutal cold encountered during the first half of the race took a toll on other teams, Brent and his dogs came through like gangbusters, earning Brent more than a 6 hour lead by Dawson City which he extended to 9 1/2 hours by Circle City. Unfortunately he lost most of that lead by oversleeping in a camp on Birch Creek just before the checkpoint at Central and he lost the rest of it while resting at Mile 101.
The fact is, Brent Sass proved he has a faster dog team than does the SPKennel during the Quest. Now the question is whether he can out-think Aliy in the Iditarod. While winning both races back-to-back in the same year is rare, Lance Mackey has proven it can be done and Brent Sass is every bit the dog man as Lance.
Aliy and Allen may be the most famous couple in long-distance sled dog racing, but they aren't the only couple to share a passion for the sport. Third place Quest finisher Ed Hopkins is partner's with Michelle Phillips, who has signed up for the Last Great Race. Though she has yet to break into the Top-10 in the Iditarod she will be mushing a team of proven performers on a trail that is unfamiliar to nearly everyone in the race. It should be interesting to watch how she and her team perform.
Quest musher Damon Alexander Tedford won Rookie of the Year, finishing with a team of 12 dogs from the kennel of Mitch Seavey. Tedford described his team as Mitch's "B-team" in several interviews. If those are his "B-team" dogs we can expect a strong showing from the stars in his kennel. I haven't heard much about last year's champion, Dallas Seavey, this season. He's been busy playing TV reality star but his training and team have been flying under the radar. I suspect he and is dogs will be 100% prepared and he will definitely be a player in this year's race.
I think that if Hugh Neff can exercise some discipline he could also be a force to consider in the Iditarod. His performance in the Quest wasn't particularly impressive this year, but he already admitted it was his own fault, for pushing his team too hard early in the race. Hugh likes being up front, and it's not uncommon for him to push hard early - sometimes to his chagrin. The thing is, I doubt he will make the same mistake twice in the same year. Although he only had 7 dogs on his gangline between Circle City and Fairbanks, he was able to coax them over Eagle Summit and finish the race in a respectable 5th place.
Training conditions have been even tougher for coastal mushers than for those in the Southcentral region, and I really don't have much information on which to assess the teams of mushers such as John Baker, Richie Diehl or others living and training in the more remote regions of the State.
The fact is, there are just too many things I don't know to make predict who will thrive and who will dive during this year's Iditarod. By my estimate, any one of at least 25 experienced mushers could win, and we aren't going to know who it is until the nose of the first lead dog crosses the line beneath the burled arch in Nome.